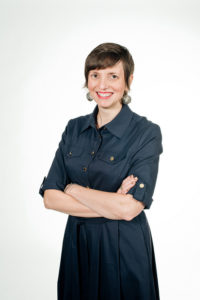 I am Anastasia Pryanikova.  I am the founder of E-Studio, LLC, a coaching, training and consulting company that blends neuroscience insights and ancient wisdom into tools and solutions in the areas of  self-improvement, performance, learning, and communication.
My background is in linguistics and cognition (M.A.) and law (J.D.)  From a linguist exploring the language of advertising, to a corporate lawyer working internationally, to a U.S. Small Business Administration attorney-advisor counseling small business leaders, I've been in the business of "changing people's minds" to facilitate high-stake conversations and decisions across borders, cultures, and industries. My colleagues and I have been awarded STARTALK 2015 grant, sponsored by the U.S. Department of Defense, for the development of multimedia online programs for language training, as well as 2016 and 2017 STARTALK grants "Bridging the Gap: STARTALK, Teachers and High Tech."
We live in the world of abundant information channels and short attention spans. I help business owners develop brain-captivating content for various multimedia channels: videos, webinars, information products, social media and e-learning.
I have co-authored "SuccessOnomics" with publisher Steve Forbes and other leading business experts and "World Class Speaking in Action" with Craig Valentine, Mitch Meyerson, et al. I have also appeared as a guest expert on "The Brian Tracy Show" on ABC, NBC, CBS, and FOX affiliates around the U.S.
I am a life-long learner. My coaching tool box includes a blend of brain-boosting questions and activities, mind body modalities, positive psychology, journaling, creative play, and other brain-captivating ingredients to help you shift your brain into high gear.
Fun Fact: I am a "yogi pretzel." You can get a glimpse of my practice on Instagram: @BrainAlchemist https://www.instagram.com/brainalchemist/
@LET'S_CONNECT:
Phone (203) 354-9808
Email: ana (at) brainalchemist.com
Web:  http://brainalchemist.com; http://bookphoria.com/; http://www.lawsagna.com
Twitter: https://twitter.com/lawsagna; https://twitter.com/bookphoria
Facebook: https://www.facebook.com/BrainAlchemist/ 
LinkedIn:  http://www.linkedin.com/in/apryanikova
Google+: https://plus.google.com/u/0/+AnastasiaPryanikova/
YouTube: https://www.youtube.com/user/SelfHelpBookMuse
1.  If you are intrigued by what you have read and want to learn more, I invite you to subscribe to my newsletter.
2.  It's one thing to know WHAT to do as a strategy and another thing entirely to know HOW to do it as a consistent process.  That's where I come in.  If you'd like to explore the possibility of us working together, please e-mail ana(at)brainalchemist.com,  or call (203) 354-9808 to schedule an exploratory session.
To Your Brilliance!

Anastasia Pryanikova, M.A., J.D.
Your Coach & Brain Alchemist