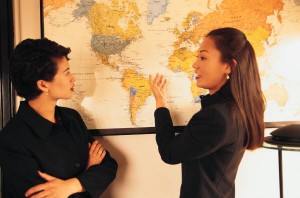 If you need to boost your brain power for an important task that demands working memory, self-monitoring, and the ability to suppress external and internal distractions, you now have an excuse to procrastinate by engaging in a pleasant chat with friends.  A recent University of Michigan study indicates that friendly conversations boost executive function while competitive interactions don't.
Psychologist Oscar Ybarra, a researcher at the U-M Institute for Social Research (ISR) and the lead author of the study, tested 192 undergraduates to determine which types of social interactions helped the brain power – and which didn't.  After brief, 10-minute conversations in which participants were simply instructed to get to know another person, the subjects improved their performance on a variety of cognitive tasks.  Conversations that were more competitive in nature didn't result in similar performance boosts.  Ybarra  explained:
"We believe that performance boosts come about because some social interactions induce people to try to read others' minds and take their perspectives on things.  And we also find that when we structure even competitive interactions to have an element of taking the other person's perspective, or trying to put yourself in the other person's shoes, there is a boost in executive functioning as a result."
It sounds like trying to understand other people boosts brain power, and empathy may even give your executive function a competitive edge.