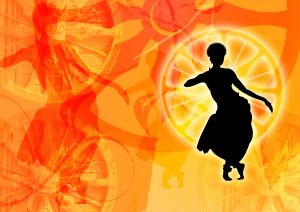 Have you ever tried yoga dance?  Yoga dance is different from what most people think of when they hear the word "dance," or "yoga" for that matter.  There are no specific steps to follow or routines to worry about.  Instead, our yoga teacher offers a storyline with elements, such as "welcoming yourself to the space" by dancing your way around the room in different directions, "building a fire" in an exuberant circle moving with the sound of drums, or the "souls and hearts" dance with scarves.  Yoga dance is all about self-expression in a harmonious, non-judgmental way when you bring your body, your sense of rhythm and your emotions into a delicate alignment.  It is also about the power of being open, spontaneous, creative and fluid. It is about the community and trust in your ability to be yourself, no matter how sweaty or goofy you may feel.  In other words, yoga dance offers one of those precious moments when your inner critic becomes quiet, giving in to the power of music and movement.
We should all practice silencing our inner critic more often. Neuroscience research suggest that we become more creative when the the parts of the brain that are responsible for cognitive control – in particular, the left prefrontal cortex – become less active.  In one study,  researchers non-invasively manipulated neurons in the participants' left prefrontal cortices through the method of transcranial direct current stimulation, or tDCS, thus suppressing the activation of these specific areas of the brain.  Participants saw a sequence of 60 objects, one every nine seconds, and were asked to quickly come up with uses for them that were out of the ordinary.  The researchers measure how long it took for the participants to come up with a valid response, or if they were unable to do so before the next picture appears. The participants with the inhibited right prefrontal cortices missed an average of 8 out of 60 objects, compared to 15 objects missed by two other control groups.   They were also able to provide correct responses an average of a second faster than the control groups.
Another study indicates that when musicians are improvising, the part of the brain that plays a role in self-restraint and evaluation is also powered down, while an area associated with self-expression becomes more active, compared to when the musicians play music they have memorized.
How can you silence the inner critic in situations that benefit from a creative flow of unfiltered ideas?  Here are five practices to boost your creativity and self-expression:
1. Role-play your way to different scenarios.  Play boosts creativity, imagination, and social agility not just in children, but in adults as well.  As adults we become overly concerned with opinions of others.  The fear of embarrassment and social rejection inhibits our creative expression.  Play can relax the brain and make us more comfortable to take risks and experiment.  Play helps us prepare for the unexpected and produce a more diverse repertory of behavior. In a role-play, we can put ourselves through different kinds of experiences, learn to better understand other perspectives and cultivate empathy. Are you feeling too shy to play? Try a hand-puppet to get your over the discomfort of assuming a role.
2. Give yourself a permission to be absurd. Brainstorm bad ideas and poke fun at your own assumptions.  It will take the pressure off and allow good ideas to percolate into your conscious mind. Don't take yourself too seriously.   "Think like a fool," advises Roger von Oech:
"It's the fool's job to extol the trivial, trifle with the exalted, and parody the common perception of a situation. In doing so, the fool makes us conscious of the habits we take for granted and rarely question. A good fool needs to be part actor and part poet, part philosopher and part psychologist."
3. Let your mind wander. The daydreaming mind continues to work on your problems, increasing the likelihood of an insight. A recent study shows that the times when we are naturally less productive may be optimal for solving insight problems. In those off-peak times when we are more distracted, our brains can tap into a wider range of information, find new connections, and see more possibilities.
4. Ditch your meeting room and head to a coffee-shop.  Experiments showed that a moderate level of ambient noise (70 dB) enhanced subjects' performance on the creativity tasks, compared to a relatively quiet environment (50 decibels).  However, if the place is too noisy (85 dB), it will hurt your creative problem-solving. Coffitivity can even "deliver the vibe of a coffee shop right to your desktop."  This web application allows you to combine your own music and ambient noises to optimize your creative process.
5. Find a solution in your dreams. Michael Michalko, the creativity expert and author of "Thinkertoys," once said, "Ideas twinkle in dreams like bicycle lights in a mist."  A  study conducted by the University of Alberta and the University of Montreal of 470 psychology students revealed that dreams that occurred six to seven days after the remembered event often reflected "interpersonal interactions, problem resolution and positive emotions."  These findings suggest that people continue to work through personal difficulties in dreams.
Sleep psychologists claim we have about six dreams each night during rapid eye movement sleep (REM sleep).  We often forget our dreams, but there are things we can do to recall dreams better and capture any creative ideas that emerged in the dream state:
If you've been working on a problem for a while, bring it back into focus right before you fall asleep.  Think about a question related to your problem that you'd like to get an answer to in your sleep.
When you awake, don't get up immediately.  Instead, lie quietly as you reflect on your dream.  If you have trouble remembering your dreams, try waking up thirty minutes earlier.
Have a dream journal next to you bed so that you could promptly record any thoughts that came to you after you woke up.  Don't censor, just write down anything that comes to mind. Your ideas are often triggered by your dream even if you can't remember the dream exactly.  After all, the contemporary scientific method was first reveled to René Descartes in his dream, which he promptly recorded in his dream journal.
You can later go over your dream journal again to see if any patterns, ideas, or insights emerge from your dream entries.
And you can always check out yoga dance.
How do you silence your inner critic?