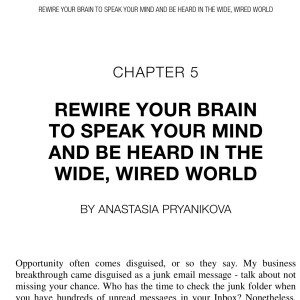 You can define the word success. Webster did, he describes success as, "The fact of getting or achieving wealth, respect or fame." But, is that what it means to you? The strange thing is, we all perceive success differently. Each of us has different goals we aspire to achieve in life or business to define ourselves as successful. However, navigating down that ambiguous pathway to success isn't always easy.
Over the last eight months, I've united with successful entrepreneurs, professionals, and experts from around the world, including publisher of Forbes magazine, Steve Forbes, to bring you the guide to success. Each of us is successful in different areas, which means we've been through both wins and losses, and have taken action to claim the term success for ourselves. And now, we're willing to share our methodology and mindset to guide and coach you to success in your own life.
This insight is brought to you in our new book, SuccessOnomics, and it's out today! My chapter is on storytelling for grit and success.
You can get your copy HERE.
Check out all of the great bonuses you're going to get if you buy it today: http://www.celebritypresspublishing.com/son_bonus.html
Just buy the book now, then send your receipt to bonus@celebritypresspublishing.com and you'll get all the bonuses!
Thanks for your support! Enjoy the book!