I am a dog owner, and it is not a stretch for me to accept that my dog has feelings (that's him in the picture).  He seems so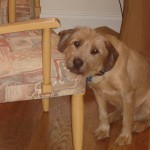 happy to see me when I come home, his tail tracing a big smile in the air.  He is playful after a good walk.  And he tosses his bowl around the kitchen floor impatiently when he is searching for food. For all of you, pet owners out there, I want to share a piece of evidence today suggesting that our four-legged friends indeed have feelings.
On a recent train ride to Grand Central, I listened to an episode of the Brain Science podcast in which Dr. Ginger Campbell interviewed Dr. Jaak Panksepp, the author of "Affective Neuroscience: The Foundations of Human and Animal Emotions." Dr. Panksepp studies how various brain systems regulate emotional feelings and social bonds.
I am yet to read the book, but Dr. Panksepp appears to have a unique position on studying emotions in the brain.  His experiments challenge some current neuroscience theories that view emotions as the brain's interpretations of our bodily feelings.  Dr. Panksepp's research indicates that both human and animal emotions begin in the subcortical circuits of the mammalian brain, which is the ancient part of the brain.  In contrast, all our human planning, reasoning, abstract thought and other complex executive functions happen in the cerebral cortex, which forms the largest part of the human brain and is situated above most other brain structures.
Through brain stimulation, the researchers have been able to isolate seven emotional systems in animals so far:  the seeking or searching for resources, rage, lust, fear, care (for the little ones), panic (the separation distress call when a little one gets lost from the parent), and play.  Scientists may discover more in the future.
Originating in the deep areas of the brain, "deep feelings" may be more than just an expression after all.  And if you feel emotional, your pet gets it.