It's been four years since I received Vogue in the mail.  The birth of my daughter, several moves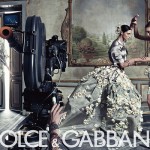 and other priorities took time away from this element of self-indulgence.  Nevertheless, I still remember how flipping through those glossy pages made me feel.  Like Carrie Bradshaw proclaimed in "Sex and the City," spending a leisurely morning with Vogue and a cup of coffee was an experience.  It transported me into the enchanted fantasy world of high fashion, luxury and fun.  Even my Ballard Designs' antique-white "sawhorse" desk I am sitting at as I am typing this post was inspired by a photo of the 5th Avenue office of some glam psychotherapist.  I remember she had beautiful pink peonies on her desk.  Incidentally, I have pink carnations on mine, presented to me on Mother's Day.
I also took a professional, linguistic interest in the ads.  During my graduate school years, I explored the language of advertising and motivation, specifically in cosmetics advertising.  So while most people skipped ads, I actually studied them.  It turns out that fashion ads are especially effective at grabbing attention, according to the research by Barbara J. Phillips at the University of Saskatchewan and Edward F. McQuarrie at Santa Clara University.
About a quarter of ads in fashion magazines feature bizarre and grotesque images.  Examples include "a Jimmy Choo ad depicting a woman fishing a purse out of a pool that contains a floating corpse of man, and a Dolce & Gabbana ad that features one beautiful woman in period costume skewering another in the neck."
Eighteen women participants in the study felt the pull of these ads as they were trying to figure out what was going on in the pictures.  They approached the ads as stories or paintings, evaluating their creativity, colors, and compositions.
It appears that the grotesque ads engaged the participants by fueling their brains' predictive mechanisms.  Our brains are storytellers.  Their function is to make sense of the outside world so that we could feel more comfortable in it.  Bizarre images puzzled the brains and piqued the women's curiosity.  The macabre nature of the images triggered enough alert in the brains to evoke a stronger emotional response.  Our brain has evolved to be more sensitive to negative information to protect us from danger.  The grimness has to be subtle, however, because negativity can also ruin the perception of the brand or create negative associations with the product.
"The merely pretty was too easily passed over; grotesque juxtapositions were required to stop and hold the fashion consumer flipping through Vogue," the researchers said.
Perhaps, we remember better what we struggle to explain, whether in a Jimmy Choo store or in front of a modern painting in an art gallery.  Now, I just need a better reminder to keep my money in my wallet.  Ideas, anyone?