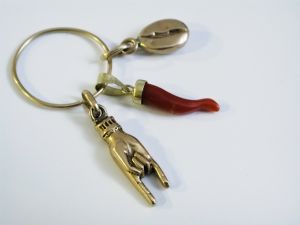 Some time ago I watched a TED presentation by Elizabeth Gilbert, the author of "Eat, Pray, Love" on nurturing creativity.  Talking about the pressures of creative work, felt especially strongly after a hugely successful book, Elizabeth Gilbert described how writers and poets had relied for centuries on their creative genius, or muse, to keep them inspired and prolific.  They developed special relationships with their mystical helpers, often incorporating elaborate rituals into the writing process.  They attributed their success to the power of their creative genius and their misfortunes to the loss of the mystical support.
If you have a muse or a lucky charm, you are in good company.  It turns out that not only artists rely on their mystical supporters.  Athletes invite them too, usually with the help of performance jewelry, lucky charms and rituals to help them focus, calm down and perform better.
Rituals and symbols captivate our brains, which are wired to look for patterns and make predictions even where none exists.  Wearing a bracelet may not really cause you to perform better but if your brain sees the connection and you believe in it, the power of suggestion makes the brain respond as if it were true, triggering a placebo effect.  It's the power of belief anchored in a symbolic object that can cause you to perform better.  Rituals serve a similar function.  A ritual is a set of actions that has a special symbolic meaning.   Rituals give a signal to your brain to prepare for something or shift focus, depending on the meaning and purpose of your ritual.
Both rituals and symbols set expectations, and, perhaps, brands can use them too as tools to create unique customer experiences that go beyond the function of the logos.
For example, in my daughter's kindergarten, each day of the week has its alternative name that incorporates the type of food that the kids help to prepare that day.  Monday is the rice day, Tuesday is the bread day, etc.  Every Tuesday morning when we step through the school doors, we are welcomed by the wonderful aroma of the home-made bread baked in the oven.  We all have come to expect it on Tuesdays, and it's a part of the school experience.
How can you get your customers in the mood to expect something wonderful?  There is a small toy store in my town, which has to compete with all those big chains around. When you have a five-year-old kid, you have numerous birthday parties to attend, and you need gifts.  We choose to shop in this independent toy store not only because of the nice inventory of toys and the friendliness of the store employees who are ready to assist you in choosing the right product. There are some unique thoughtful features in that shop that boost their customer experience.  For example, they provide a few tables with complimentary gift wrapping paper and bows so that the customers could wrap their gifts and kids could take part in the action.  You can also choose a free birthday card with your purchase.  This little gift-prep ritual makes a difference.  And when we are in a rush to get that last minute present, we know we can get it all done in one place without crowds of people and much waiting.
Either it's the holiday season that makes me think of freshly-baked bread and pies or I am just hungry and my brain needs glucose, but my next example also involves a culinary tradition.  It comes from The Grossman Group, a consultancy that specializes in strategic leadership, internal communication and delicious Grandma Elsie's Famous Pumpkin Chiffon pies, which The Grossman Group makes for their in-town clients every Thanksgiving as a sweet way to say "Thank you."  Their out-of-town clients get the ingredients and the recipe in the mail to make their own pies.  And all other lovers of pies and communication can get the famous recipe on The Grossman Group website.  Now, that's a treat and treatment that customers can appreciate.
How can your brand find a lucky charm or creative inspiration that can set it apart from competition?  Do you have a lucky charm or tradition that you want to share?