"
"You can discover more about a person in an hour of play than in a year of conversation."
~ Plato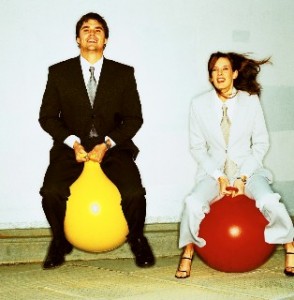 Have you ever played with kaleidoscopes – those tubes of mirrors with colorful beads?  You turn and shake them, and the stones form different patterns, reflecting off the mirrors.  Our minds can be like kaleidoscopes.  We receive the same pieces of information, but they get reflected off the mirrors of our experiences, attitudes, beliefs, and form our own, unique patterns of understanding.  We can use play to shake up some old patterns and beliefs that no longer serve us to improve our thinking and decision-making.
Play delights the brain. Some neuroscientists believe that play is a central part of neurological growth and development. Play allows children to build complex, skilled, responsive, socially adept, and cognitively flexible brains.  Play has also been identified as one of the primal emotional systems of animals through brain stimulation.  Many believe adults can also benefit from play as a way to boost creativity, imagination, and decision-making.
As adults we become overly concerned with the opinions of others.  The fear of embarrassment and social rejection inhibits our creative expression.  Play can relax the brain and make it easier for us to take risks and experiment.  Play helps us prepare for the unexpected and produce a more diverse repertory of behavior.  When we play, a part of the brain that is involved in self-restraint and evaluation – the inner critic – is powered down, allowing for a fuller expression.
Through role playing, we can put ourselves into different kinds of experiences, learn to better understand other perspectives, and cultivate empathy.  Finally, play is also a ritual with its sets of rules and scripts.  As with any ritual, play sets expectations for a certain kind of behavior and prompts the brain to give commands in accordance with these expectations. Here is how you can gamify your thinking to make it better:
Connect the dots to solve your life's puzzles. Scan your past for repeating behavior patterns, causes and effects.  Learning is the anchor of our experiences, both good and bad.  Without it, we are just drifting through life.
Remove the invisibility cloak: you can't change what you can't see.  Develop self-awareness.  Pay attention to context.
Play hopscotch with your own stream of thoughts: know where to land and what to overlook.
Master Jeopardy: your power lies in the questions you ask.  The answer is always closer than you think.
Find your good luck charm. The belief anchored in a symbolic object may cause you to perform better.  The power of suggestion makes the brain respond as if it were true, triggering a placebo effect.
Be a  storyteller. Nothing captivates a human brain more than a good story.  Stories engage us on the emotional level.  Experiences accompanied by strong emotions are more memorable.  When the story resonates with the listener, the brains of the speaker and listener may synchronize, suggesting a deep human connection.

Use a box to think "outside the box."  Acting out creativity metaphors makes us more creative.

Think on your feet, literally. Let your body guide you when you need to make a decision.  If you experience muscle tension, a "pit" in stomach, or a sudden headache, perhaps, your body is telling you that you are moving in a wrong direction.
Play dress-up.  Clothing affects not only other people's perception of us, but also our own thoughts.  For example, if you need to pay more attention to detail, you may want to don a scientist's white lab coat.

Sharpen your thinking through doodling. Doodle, sketch, illustrate your ideas.  Pictures are easier for the brain to process and remember.  Get inspiration from Leonardo da Vinci's illustrated to-do list.