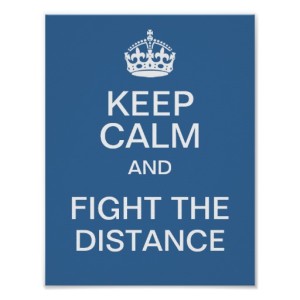 Last fall, I began practicing Krav Maga, a self-defense system originally developed for the military in Israel. One of the concepts we learn to evaluate in Krav Maga is distance. Ideally, you want to be far enough from a threat to escape and avoid confrontation altogether. When it is not possible or safe, the worst place to be is often mid-range because that's where you will feel the most impact from an attack. To defend and counter attack effectively, Krav Maga teaches to close the gap between you and your opponent to neutralize the attack and gain control of the opponent. Moving closer to danger does not feel natural, so we need to repeat the drills over and over to make the techniques almost automatic.
This evaluation of distance and risk can apply to many other situations in life, including the fear of public speaking, as well as presentation design and delivery. Our brains are wired to conserve energy and resources and keep us in the comfort zone of what we know. It takes effort and a leap of faith to learn a new skill, change habits, or test novel solutions. Our brains are happy to stay away from challenge and maintain the status quo.
As a presenter, you want to challenge your audience's brains. You may choose a mid-range strategy, getting by with the known and frequently used methods, such as lecturing with PowerPoint slides, notes or handouts. What's the downside? Your audience members have to battle a multitude of distractions, such as social media, email, their own concerns and preoccupations, etc., to stay focused on your expert content. Our attentions spans are getting shorter, and our working memory is limited. We can consciously process only about seven pieces of information at a time. The cognitive load of dense expert content is like a punch. It can leave the audience's minds fuzzy or even deliver a knock-out.  If your audience members have to struggle through loads of information, they are more likely to give up. That is the real risk that many presenters face.
In contrast, opening your presentation in a surprising way that grabs attention, telling stories, interacting with the audience, playing games, using catchy visuals and multimedia to generate discussions may seem like novel approaches. They may require you to take a leap of faith and venture into the unfamiliar territory. The risk shifts from the audience to you as a presenter to come up with innovative solutions to keep the audience's minds engaged and active.  You have to relinquish some of the control over the material to let your audience to co-create their learning experience with you.  You have to be open to unexpected turns and new possibilities emerging from your interactions. However, if you are willing to take that risk, you are closing the gap between your expert content and the audience. You can offer multisensory experiences that entertain and educate, nourish and sharpen the minds. When the participants are both challenged and engaged, they can reach the so called state of "flow," or relaxed concentration, and feel good about their progress, so they will be happy to continue learning from you.
Are you willing to go the distance for your audience?