It is not every day that a social media enthusiast gets to live the drama of a social media crisis.  Yesterday, apparently,  I took part in one after posting this comment to the U.S. Figure Skating Facebook fan page:

I was surprised to discover a few hours later that my post was deleted, as were many other similar comments.  They were not rude or inflammatory, so this reaction raised many eyebrows among figure skating fans.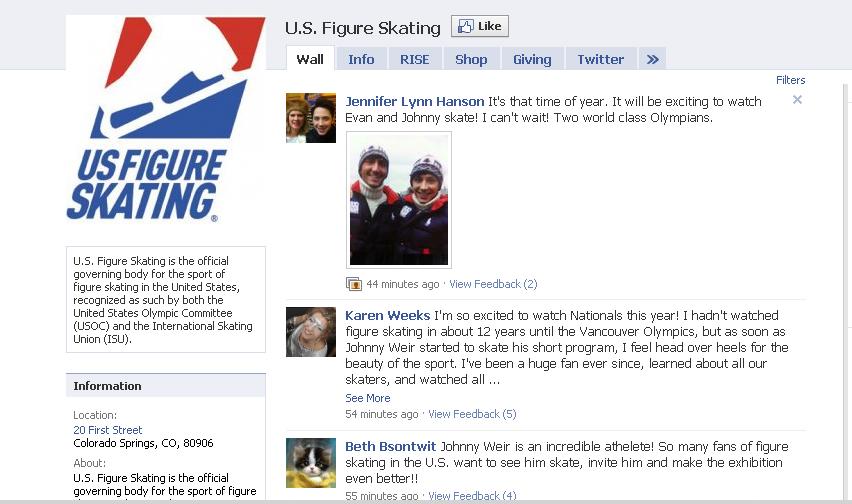 You can see more fans' posts that were deleted from the U.S. Figure Skating Facebook page here.
Here's how it all began…
U.S. Figure Skating is the national governing body for the sport of figure skating in the United States. U.S. Figure Skating is a member of the International Skating Union (ISU), the international federation for figure skating, and is a member of the U.S. Olympic Committee (USOC).   As 2011 U.S. Figure Skating Championships are about to take place in Greensboro, North Carolina, at the end of January, the controversy is brewing over the Smucker's Skating Spectacular, the gala exhibition that concludes the National Championships on January 30, 2011.
The U.S. Figure Skating rules ban skaters who are not competing this season at Nationals from skating in the exhibition.  This year, U.S. Figure Skating made an exception for Evan Lysacek who is scheduled to skate in the Spectacular even though he is not competing.  No exception, however, was made for the winner of the 2010 Readers' Choice Award / Michelle Kwan Trophy, Johnny Weir, who is expected to be presented with the award at the Championships.  He is the only skater other than Michelle Kwan herself to ever receive the Readers' Choice Award more than once.  Understandably, Johnny Weir's fans want to see him skate in the exhibition as well, so they began sending their suggestions to U.S. Figure Skating via Twitter and Facebook.
At the time of this writing, any updates on the U.S. Figure Skating  Facebook page are disabled, which suggests that U.S. Figure Skating is not ready to engage in a dialogue with its fans or even simply respond.  The bitter irony is that these comments were made by people who support and care about the sport and try to raise its popularity in the U.S., a mission presumably shared by U.S. Figure Skating.
01/25/2011 UPDATE – US Figure Skating changed its Facebook fan page settings back to enable the "US Figure Skating + Others" tab where fans can post their updates.  At least, US Figure Skating no longer feels the need to hide our opinions, perhaps, because at this stage, when the Championships are under way, it is too late to change anything anyways.  It's just talk, isn't it?