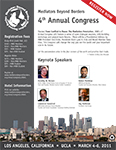 I am writing this post as I wait at the LAX airport for my flight back to New York, while the memories are still fresh.  The 4th Annual Mediators Beyond Borders Congress is over.  It's been my pleasure and privilege to spend three days with so many wonderful people, doing great work all over the world.  I learned a lot and got the opportunity to present a workshop with my friend, colleague and a masterful communication coach Nancy Kay. Our topic was "Rewiring Your Brain: Neuroscience and Leadership in Conflict."
The Congress took place on the beautiful UCLA campus.  The weather was perfect, sunny 70F, a welcome break from the harsh Connecticut winter this year.
The energy of the MBB Congress was truly global, with participants from various countries, speaking many different languages, involved in projects all over the world.  We heard about their work in Liberia, Sierra Leon, Colombia, Zimbabwe, and other places.  Mediators Beyond Borders is a relatively young organization, which is growing rapidly and extensively.  The MBB website says, "Mediators Beyond Borders – Partnering for Peace & Reconciliation is a non-profit, humanitarian organization of skilled volunteer conflict resolution professionals established to partner with communities in troubled locations worldwide to support them to build their conflict resolution capacity for preventing, managing, resolving and healing from conflict."
MBB brings together mediators who volunteer their skills and expertise to work on various projects in the world, from supporting the re-entry of Liberian women ex-combatants into their communities to improving collaboration among professionals in Colombia, to exploring the post-genocide process of social healing and reconciliation in Rwanda through the documentary "Coexist."
One of the take-aways from the MBB's Congress was the realization that you don't need to be a part of the government, or NGO or some other big entity to make a difference in the world.  MBB educated its members on how to start, plan, and implement projects through published guides and the vast knowledge of its mediators who have years of experience in international work and who are willing to share their lessons.
Each day at the Congress began with a brief meditation to help us center through breathing and appreciate the importance of being kind and loving to ourselves before we are able to give to others.  We had keynote addresses, break-out sessions, and panel discussions on various topics.  It was an intense but very rewarding experience.  I tried to take notes here and there and even tweet from the Congress under the hashtag #MBBCongress – it's not an easy task to break complex ideas into 140-character soundbites.  Here are some highlights of what I was able to capture, which is just a small portions of what was transpiring at the event.
Lawrence Susskind gave a keynote address entitled "Mediating Human Rights and Other Corporate Social Responsibility:  Disputes on a Global Scale."  He spoke about adding collaborative informal problem solving as a step to formal proceedings to generate agreements.  As Susskind observed, one of the challenges of treaty negotiations is that key negotiators arrive at the negotiation armed with what the truth needs to be, which precludes real explorations and discussions.  Informal problem solving can engage participants while addressing potential sovereignty concerns.  It doesn't require rewriting of the formal rules of proceedings.  Participants can be invited in their personal capacity, rather than as governmental officials.   Finally, informal problem solving can be a step towards a proposal, rather than a decision.
Susskind addressed some common misconceptions about mediation, specifically, the notion that mediation requires the pre-existence of trust among parties and that it is about concessions and altruism.  He pondered whether the language of collaborative informal problem solving could be a better choice to overcome those misconceptions.  In his words, informal problem solving is about helping parties meet their needs most effectively – that's all.
I will stop now as it's time to catch my red-eye flight to New York…to be continued.
Related posts:
Reflections on the 4th Annual Mediators Beyond Borders Congress, Part 2:  Cross-Cultural Communication
Reflections on the 4th Annual Mediators Beyond Borders Congress, Part 3:  Compassionate Listening