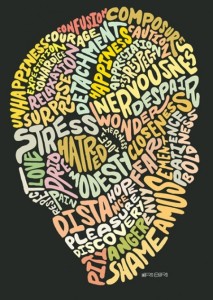 "All words are equal, but some words are more equal than others."
~ George Orwell, "Animal Farm"
Words have power – some more than others. Neuroscience research sheds light on how words captivate our brains. We know that traditional language regions, like Broca's area and Wernicke's area, are activated when the brain interprets words. Surprisingly, however, narratives stimulate many other parts of the brain. For example, when researchers in Spain showed subjects the Spanish words for "perfume" and "coffee," their primary olfactory cortex lit up.  Similarly, words describing motion activated the motor cortex. It appears that words can cause the brain to create a vivid and real experience of whatever is described to us. Here is how you can power up your words to ignite the brains of your audience.
1. Write and speak for the senses.  Whenever you describe a scene, think about the sights, sounds, smells and textures it can evoke.  Close your eyes, imagine the scene and describe it in the words that appeal to all our senses. Sensory words can make your descriptions more vivid.
Be mindful of the "word aversion" phenomenon described by University of Pennsylvania linguistics professor Mark Liberman as "a feeling of intense, irrational distaste for the sound or sight of a particular word or phrase, not because its use is regarded as etymologically or logically or grammatically wrong, nor because it's felt to be over-used or redundant or trendy or non-standard, but simply because the word itself somehow feels unpleasant or even disgusting." Certain words – 'moist' being the worst offender – appear to trigger word aversion for more people.
2. Use concrete details in your descriptions. Provide enough detail for your audience members to help them visualize the scenes of your narrative, but remember that too much information can be boring. Our working memory is limited and can be easily overwhelmed with lots of detail. Don't overuse adjectives and adverbs. While they seem to be descriptive, they are often vague.
Here is how vividly Sarah Ban Breathnach describes dreams in her book "Something More: Excavating Your Authentic Self": "Dreams can also be like a collage, an artistic composition made up of various materials, such as paper,  fabric, and wood. Our dream collages can be as illogical as snippets of conversation spoken by a woman balancing a tepee on her head as she's chased by a pack of llamas."
3. Compare sensory impressions.  Comparisons can turn abstract concepts into something tangible that we can all relate to.  You can use comparisons when you describe sounds, colors, sizes, flavors, smells, and textures.  Here are some examples:
"She spoke of fruit that tasted the way sapphires look…"
~ Toni Morrison, "Paradise"
"The bed linens might just as well be ice and the clothes snow."
~ Robert Frost, "The Witch of Coos"
4. Employ metaphors.  Our brains often blend reality and symbols. Metaphors activate sensory cortical areas in the brain that process touch, hearing, and vision. Metaphors can trigger emotional responses and influence decision-making more profoundly than abstract concepts. Beware of the power of metaphors. They can either clarify an issue or mislead by triggering a visceral reaction that may overcome rational judgment. Here are some examples of metaphorical thinking:
"It's when I'm weary of considerations,
And life is too much like a pathless wood."
~ Robert Frost, "Birches"
"The rain came down in long knitting needles."
~ Enid Bagnold, "National Velvet"
5. Highlight novelty, surprise, and contrast.  Our brains prefer stimulation to boredom.  "There are three things which the public will always clamor for, sooner or later: namely, novelty, novelty, novelty," wrote Thomas Hood. The brain is motivated by curiosity and the search for patterns. Washington State University neuroscientist Jaak Panksepp calls this the "seeking" system of the brain.  It motivates animals to search for food, and it causes human brains to seek out information, experiences, connections. When the brain is busy searching, it increases levels of the neurotransmitter dopamine, which is responsible for the sense of purposefulness and focused attention.  Interestingly, these neurons become even more excited when there is no pattern to be found or when the expected pattern is broken.  Novelty fuels the brain's urge to search. Contrast and surprise captivate the brain because they violate routine expectations and patterns. They capture attention as the brain tries to reconcile the incongruities.  Here are some examples of novelty and surprise:
"The writer of originality, unless dead, is always shocking, scandalous; novelty disturbs and repels."
~ Simone Beauvoir
"Happiness is having a large, loving, caring, close-knit family in another city."
~ George Burns
"Wear a smile and have friends; wear a scowl and have wrinkles."
~ George Eliot
How do you power up your words to link and sync brains? When you listen, which words carry more power for you?