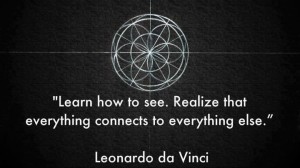 Whenever my 7-year-old daughter has a question that I cannot answer immediately, her typical response is "Look it up."  Even with her purposefully limited exposure to the Internet, she knows that there is an answer somewhere there hiding behind the keyboards and screens.  What she does not realize is that I cannot easily look up the meaning of made-up words, the habitat of imaginary animals or what the weather is going to be on her birthday, which is in December and still months away.
In the world where many answers are available at our fingertips, there is wisdom and learning for all of us in pondering things that are not easy to look up. As speakers, teachers, trainers, and facilitators, it is perhaps our mission to challenge the audience with inquiries that cannot be solved by a piece of technology.  As neuroscientist Stuart Firestein suggests in his TED talk "The Pursuit of Ignorance," "high-quality ignorance" – the appreciation of what we don't know – is a fuel of discovery.  While we can and should incorporate searchable facts, statistics, theories, and conclusions into our presentations, the growth potential often lies in unique, emerging connections initiated by the leaps into the unknown that the audience is willing to take.  Here are three strategies to help your audience "to make better ignorance" – to tinker with ideas for deeper insights.
Offer questions for reflection. A question is a mirror for the mind. A search for an answer can reveal new associations and pathways that may not surface otherwise. Questions help to make your message relevant to your audience. They challenge the audience to think about how your main points relate to their lives and personal experiences. As Immanuel Kant  observed, "Every answer given on principle of experience begets a fresh question." What can you ask your audience to highlight the relevance of your message?  In which contexts are they most likely to apply your ideas?  Make your questions open-ended to invite a broader inquiry: who, what, where, how, when, why.  Give enough space and silence for the insights to percolate to the surface. Invite your audience members to share their responses and listen actively for new connections to explore. Make reflection an essential part of the learning experience you create for your audience.
Explore life's what ifs through scenarios.  Scenarios are mini-stories co-created with your audience. They provide hooks for your audience members to hang their own assumptions, beliefs, fears, and hopes. Scenarios offer a unique way to determine how a set of factors or a specific context can influence outcomes.  You can change things up, explore alternatives, brainstorm solutions without being threatened by negative consequences.  Scenarios help to overcome the "groupthink" and invite contrarian opinions.  In real life, we don't always have the luxury of testing things out.  Scenarios offer an opportunity to take risks while still playing it safe.
Gamify your message. Our brains like playfulness. The desire to play may be wired in our mammalian brain as many animals exhibit playful behavior and learn the intricacies of social interactions through play. Play can relax the brain and make us more open to experiment, prepare for the unexpected and produce a more diverse repertory of behavior. In a role-play, we can assume various roles, put ourselves through different kinds of experiences, learn to better understand other perspectives and explore our own identities. Invite your audience to play, be silly, poke fun at themselves and laugh. Reward your audience members for their contributions. Random rewards boost motivation and learning as they trigger the release of the feel-good neurotransmitter dopamine. Playfulness is a way to create the state of "flow" and full engagement with people and ideas. As Plato once said, "You can discover more about a person in an hour of play than in a year of conversation."