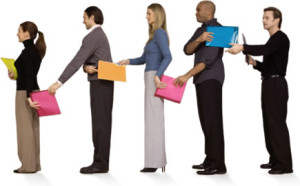 Whenever I attend a conference or other events with speakers, I always look for the nuggets of wisdom I can share with my social networks right then and there.  I get original content and an opportunity to connect with other participants who may use the same hashtag for the event, as well as bring awareness to the event itself. It makes my job much easier when speakers have those catchy phrases, quotes, and headlines nicely peppered throughout their presentations.
If you are a presenter, you can benefit from having a range of shareable and tweetable phrases at your disposal. You get more exposure on social networks because others are more likely to share your words. You can use them in your marketing and promotional materials to stand out from the crowd. They can help people remember the gist of your message years after they heard you speak. Those expressions also build your brand if they speak to your values, core messages and perceptions. How do you develop such brain candy?  Here are 5 tips to create shareable content:
1. Keep it concise and precise. Ambiguity tickles the mind, precision sharpens it. Aim to express the main ideas of your presentation in a memorable way in 140 characters or less.
2. Sample, but don't steal. Be always on the lookout for headlines in newspapers and magazines that you like. Notice what catches your attention and stirs your emotions. Pay attention to the wording and structure of the headline. The more you notice, the better you become at writing your own headlines. The goal is not to copy them but learn from them.  For example, I saw "Five things we can't stop smiling about…" in The Oprah Magazine.  That's a construction that can be re-used in many contexts: "Ten things I can't stop thinking about…" or "Three movies I can't stop raving about…" You get the idea. Here is another example:  "Good news for bad habits." This headline plays with the contrast of "good" and "bad" in common expressions.  You can create your own contrastive pairs: "light humor for dark days" or "a sweet treat for a sour disposition."
3. Write to remember. Jot down your creative ideas whenever and wherever they pop up in your mind. It is difficult to come up with a catchy phrase on the spot.  It usually takes time and several versions to perfect it. That's why it is important to keep notes. Look for things that rhyme and word combinations that have a nice ring and flow to them. I have a Google document – Say Something – where I record my work in progress, and whenever I have a few spare minutes, I go there to tinker with words.
4. Sort and recycle. As you accumulate more catchy sayings, you can organize them according to their topics and combine them into an article or a blog post. My blog post "Six Tips for Peaceful Holidays" began with a series of tweets with the hashtag #peacefulholidays.  Later, I expanded on each tweet to write the blog post.  Craig Valentine, World Champion of Public Speaking for Toastmasters  International, who trained me to become a certified World Class Speaking Coach, compiled his "27 Phrases To Master the Stage" to inspire other speakers. I remember much of his speaking advice through these phrases. There are WordPress Twitter plugins, such as Click To Tweet,  that will allow your readers to share your phrases on Twitter with one click.  If you find compelling photos or images to accompany your phrases, you can turn them into slides or inspirational content to post on Facebook, Instagram or Pinterest.
5.  Make them laugh, make them cry. Appeal to emotions. Emotional content grabs attention and is more likely to be shared and better remembered.  As one study revealed, "videos eliciting positive emotion, including joy and humour, are most likely to be forwarded; videos eliciting feelings of alertness and attentiveness are the next most likely to be forwarded.  Videos that evoke negative emotions, such as anger or disgust, are still more likely to be forwarded than dull, non-emotional videos.  Another study, done by the Journal of Marketing Research and the American Marketing Association, identified the top 9 emotional triggers that drive social sharing: emotionality, positivity, awe, anger, anxiety, sadness, practical utility, interest and surprise.